Be sure to check out our new MEDIA GALLERY for great video previews,
fun photos, and songs from all of your favorite Nunsense Shows!
IT'S HERE!
THE WORLD PREMIERE CAST COMPLETE DVD OF
NUNSET BOULEVARD!
Available in the Website Store or by calling
1-800-YES-NUNS
50% of all sales go to the Abbey of Regina Laudis to support Mother Dolores Hart and the Benedictines.

************************************************************

BREAKING NEWS!!
CINDY WILLIAMS (star of "Laverne & Shirley") will be starring as Mother Superior in the National Tour of
NUNSET BOULEVARD
The Nunsense Hollywood Bowl Show
The tour will start in the Fall of 2012 and continue into the Spring of 2013
Produced by: Scott M. Robbins
Booked by Gurtman & Murtha. Check out www.gmartists.com
THE NATIONAL TOUR starring CINDY WILLIAMS (far right) will feature the original New York Cast (L to R) Bambi Jones, Deborah Del Mastro, Stephanie Wahl, and Jeanne Tinker.
Directed by Dan Goggin, Choreography by Teri Gibson
Musical Direction by Eric Alsford
---
SECOND SMASH YEAR!
"NUNSENSE VEGAS STYLE"
ARRIVES IN LAS VEGAS FOR AN OPEN-ENDED RUN AT THE LVH HOTEL AND CASINO.
STOP BY THE SHIMMER ROOM FOR AN AFTERNOON OF HILARITY!
___________________________________________________________

"Sister Robert Anne's Cabaret Class"
is touring starring the phenomenal Christine Mild.
See her performance on youtube.com. Search SRACC2
"Christine Mild is so brilliantly talented she makes it look easy."  ---BROADWAYWORLD.COM
CHRISTINE APPEARS NEXT AT MEADOW BROOK THEATRE
Auburn Hills, Michigan JULY 12-15
Tickets available at 248-377-3300 or Ticketmaster.com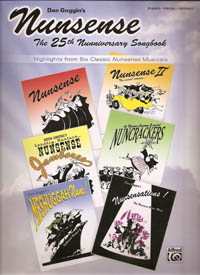 The "Nunsense 25th Nunniversary Songbook" is finally here. It's 168 pages of songs, stories and photos from all of the Nunsense Musicals so far. You'll enjoy reading some of the history of "Nunsense" as well as seeing pictures of shows from around the world. You can order it directly from the Nunsense Store on this site for $21.95.
A new Nunsense Fan Site has been opened on Facebook.com. Check it out and join.
The Nunsense Museum is officially open at Seven Angels Theatre in Waterbury, Connecticut. Many East Coast people wanted to enjoy the museum and so after a year on the West Coast it was decided to bring the exhibits East. Seven Angels Theatre is run by Artistic Director Semina De Laurentis, who won a "Best Debut by an Actress" Award for her portrayal of Sister Mary Amnesia in the New York Production of Nunsense.
NEW SERVICE!! Sheet music for many of the various Nunsense Show songs can now be downloaded on Musicnotes.com, and recordings can be digitally downloaded on CDBaby.com. Check it out!
If you've performed in any of the "Nunsense" shows and your name is not in the alumni list, you can be added by using our easy form. Just click here!