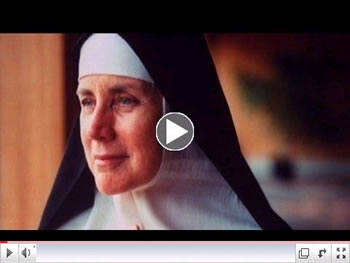 Dolores Hart:
From film starlet kissing Elvis to Mother Dolores ... to Oscar's Red Carpet
Dolores Hart appeared in 10 movies in the late 1950s and early '60s, starring opposite some of the biggest stars of the era: Anthony Quinn, Myrna Loy, and Montgomery Clift. She was one of Elvis Presley's first onscreen kisses. At age 20, she earned a Tony nomination for her Broadway debut in The Pleasure of His Company. She was an above-the-title star of 1960's spring-break romp Where the Boys Are, which led to an invitation to join the Academy of Motion Picture Arts and Sciences.
And then in June of 1963, the striking starlet with the dark blond hair and piercing blue eyes left it all behind. She packed a single suitcase and attended one last autograph-signing session in New York City for Come Fly With Me, an MGM comedy about three husband-hunting air hostesses. ''I remember I had makeup on from some photography that they were doing,'' she recalls. Then a man working for the studio approached her. ''He wanted to know if he could take me somewhere when it was over, so I said, 'It's a long way. You could just take me to the bus.''' But he insisted, and so he drove her just over two hours north of the city and deposited her at the Abbey of Regina Laudis in Bethlehem, Conn., where she has lived the quiet life of a cloistered Benedictine nun ever since.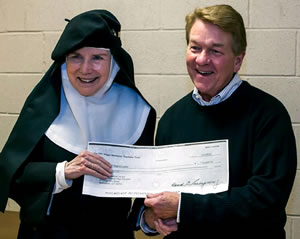 When one of the "Nunsense" musicals was playing in Connecticut, Dan Goggin was introduced to Mother Dolores and that began a friendship which has only grown over the years. In 2009 Dan decided that Mother Dolores' life would be a great subject to be part of his new musical, NUNSET BOULEVARD. Mother Dolores herself, loved the idea, and said that Dan was the one who finally got her back to Hollywood---if only in a musical comedy story. Now, that imaginary thought has come to life. In 2012 Mother Dolores was nominated for an academy award for a documentary about her life and she actually did return to Hollywood and the red carpet at the Oscars. She is a huge fan of the "Nunsense" musicals and in return for all her love and support the NUNSET BOULEVARD company is splitting the profits of the DVD of the show 50/50 with the Abbey of Regina Laudis, home to Mother Dolores.