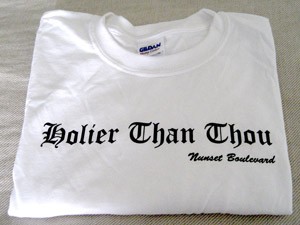 Nunset Boulevard: Holier Than Thou T-Shirt
"Holier Than Thou" T-Shirt exclusively for Nunset Boulevard. XL Only.
Availability: Orders are shipped on Tuesdays and Thursdays
Ships from and sold by Nunsense!

Product Description
Nunset Boulevard Prizes -- Get them all! Includes the Key to Heaven, "Grow Sait Peter", Nun Bowling Game, and the "Holier Than Thou" T-shirt.